New Patients at Palm Chiropractic
When you walk into our office, know that you are welcome! Your health and wellbeing are our primary focus. We care about each one of our patients, and your families.
The Initial Consult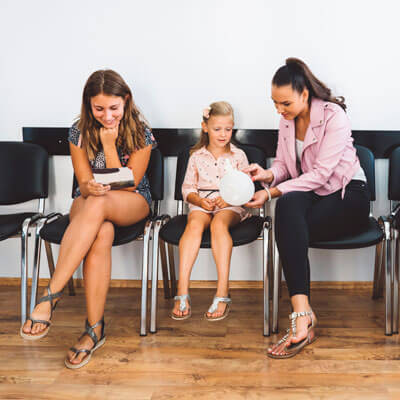 Dr Shara will have a 1-on-1 consultation with you, delving into your medical history in detail. She will also discuss your lifestyle; all your activities, work responsibilities, and your home life. Any injuries and conditions will also be detailed at this time.
At Palm Chiropractic, we believe in the whole person approach-mind, body, spirit. We incorporate all elements of what the patient is doing when they're not in the clinic. This guides us in how to best help them or refer them elsewhere if necessary.
Dr Shara also conducts an extremely detailed physical examination to find any blockages and areas that don't function properly. Combined with the consultation, this allows her to discover what's triggering the problem. If necessary, X-rays will be taken.
If Dr Shara determines the patient is eligible, they will receive their first adjustment the same day. Afterwards, she sends the patient home with care instructions and a PDF with information specific to their problem.
Follow-up is important. All patients receive a call or Whatsapp the next day to see how they're doing. Instructions are given to negate any soreness and aches and pains they might have. The next appointment is scheduled, if necessary. We're in touch with our patients 2-4 times after the adjustment.
Regular Treatment
Once your customized care plan has been determined, adjustments are done based on the plan recommendations. Frequency of treatment will depend on the nature of your condition and therapies used. The level of care remains the same at all times.
Ready to Book?
There's no one like you! We'd love to welcome you to our practice! Let us help you get to optimal health, so you can get back to enjoying life again. Contact our office to schedule an appointment.
CONTACT US »

New Patients at Palm Chiropractic | +65 9479 7498